Dreaming of spending the night in a glass igloo, a traditional Finnish log cabin or a luxurious Arctic TreeHouse cabin? Finnish Lapland is the place to go for a magical winter holiday. With some of the cleanest air in the world, many areas with little or no light pollution and lots of unique accommodation, you have great chances of spotting the Northern Lights.
When to go
It is sais that Finland is one of the best places on Earth to spot the Northern Lights - they appear on more than 200 nights a year in Finnish Lapland. The best time to see the Northern Lights is between October and March. The Northern Lights might be visible for a couple of minutes or most of the evening.
Where to stay
Visit your favourite Finnish winter destination on a shorter trip or let the adventure take you further into the stunning winter landscapes. One of the best ways to experience the Aurora Borealis is from the comfort of your own bed in an Aurora cabin or on an exciting Northern Lights excursion in the dark Polar night.
Here's a list of some of our favourite places in Finnish Lapland to experience the Northern Lights.
Rovaniemi
Rovaniemi is located on the Arctic Circle and is the capital of Finnish Lapland. It is known for being home to Santa Claus and countless of reindeer. Surrounded by forest, Rovaniemi is the perfect winter playground. It is possible to do almost all winter activities and experience the true feelings of nature.
1. Apukka Resort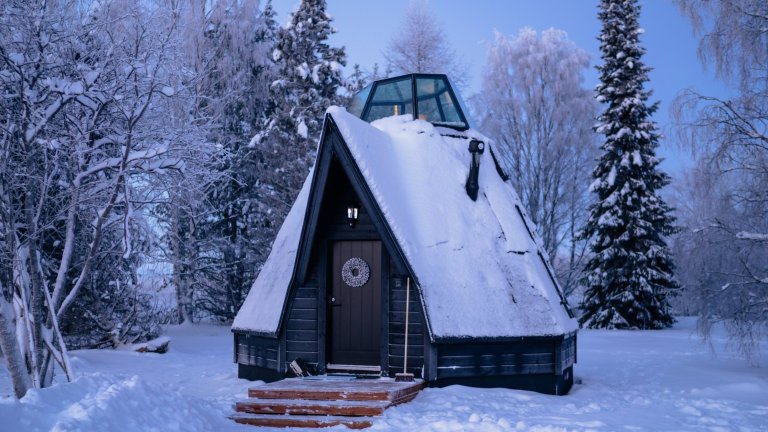 Nearest airport: Rovaniemi
Perfect for: Nature lovers, families, winter activities
Must-do: Search for the Northern Lights on board the Aurora Snow train and try the ice sauna
Imagine this; getting cosy hand-in-hand with your partner while watching the Northern Lights dancing across the clear dark sky from your own bed under a glass roof. If that sounds like something you would like to experience, Apukka Resort might be the perfect place for your next getaway.
The Apukka Resort is located almost precisely on the Arctic Circle, between two lakes outside of Rovaniemi. Tucked away in the taiga forest this is without a doubt an exceptional place to experience the Northern Lights.
Apukka Resort offers several types of accommodation, our favourite being the Komsio Hut. These huts are specially designed and originates from the ancient culture of Lapland. In the rooftop bed, you sleep right under the stars under a heated thermal glass roof. Another favourite and lower-priced option is the Aurora Cabin, a glass-roofed igloo cabin. Both types of accommodation create the cosiest conditions to spot the Northern Lights.
2. Arctic TreeHouse Hotel
Nearest airport: Rovaniemi
Perfect for: Honeymooners, luxury travellers, winter activities
Must-do: Try a Lapland classic with a modern twist at Rakas Restaurant, Arctic Treehouses' own restaurant.
If you are into architecture and dream of spending a night in a stylish wooden-walled room with panoramic north-facing windows and Nordic interior, then you'll love a stay at the Arctic TreeHouse.
The Arctic TreeHouse Hotel has earned its fame with its unique blend of luxury comfort in the middle of the peaceful Arctic nature. At this Instagram friendly design hotel, you spend the nights in nest-like suites standing on tall poles in between the trees with panoramic views of the Arctic skies. Above the treetops, you get the best conditions to spot the Northern Lights from your window.
If you're travelling with kids, a visit to the magical Santa Park, just a short walk away from the Arctic TreeHouse, is an absolute must. Here you can indulge in jolly Christmas fun and of course, meet Santa Claus and his Elves.
3. Arctic Circle Wilderness Lodge
Nearest airport: Rovaniemi
Perfect for: Nature lovers, the relaxation traveller, winter activities
Must do: Warm up and relax the traditional Finnish way in the Lodge sauna
The Arctic Circle Wilderness Lodge is the perfect destination if you're looking for peaceful accommodation in the Rovaniemi area. With its location right next to the river Raudanjoki and in the middle of the pine forest, the Lodge is the place to enjoy pure arctic nature in silence. Their Panorama huts are made from local pine wood and with a full-size window, you get as close to nature as possible from the comfort of being inside a warm room.
In winter it is a great place to look out for the Northern Lights and participate in winter activities. Meet the Arctic animals and explore the snowy landscapes on a dog or reindeer sledging trip. It is a wonderful experience to get up close with your favourite arctic animal. Another unique way to experience the peaceful nature is to drive silently through the forest on an electric snowmobile tour. Don't forget that the best way to end a day well spent outdoors is to step into the Finnish sauna.
Inari
Inari is located way up north right in between Norway and Russia. It is the perfect spot for outdoor activities and arctic exploring. The area is known for its Sámi culture and wild nature, and it is said that in Inari there are more reindeer than people. Learn about the local culture and Arctic lifestyle at the Sámi Museum and Nature Centre Siida and explore nature-based activities such as snowshoeing and dog- or reindeer safaris.
4. Wilderness Hotel Inari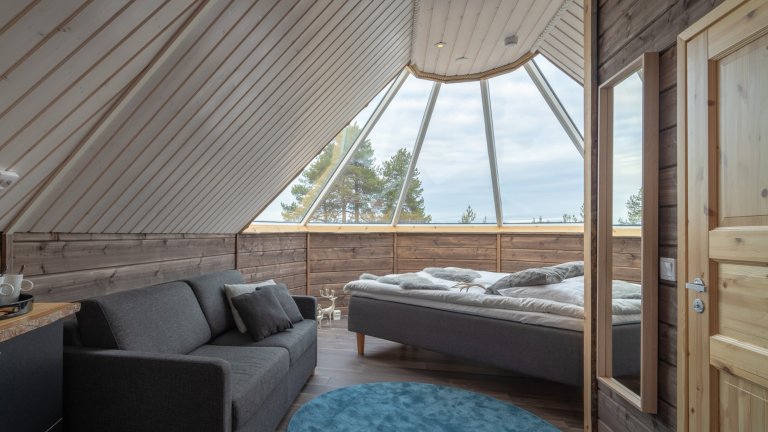 Nearest airport: Ivalo Airport
Perfect for: Families, nature lovers, winter activities
Must do: Treat yourself with one of their homemade cinnamon buns
Far above the Arctic Circle just outside the small Sámi town of Inari, you find the beautiful wilderness resort Wilderness Hotel Inari. The resort is located next to the Lappish Lake Inari and offers accommodation in glass-roofed aurora cabins, rustic wilderness rooms or log cabins with a décor focusing on comfort inspired by the wilderness surroundings. It is the perfect spot for outdoor activities and Northern Lights chasing.
The onsite restaurant offers Lappish cuisine in a cosy atmosphere with views over the frozen lake. In the bar, you can try a variety of wines and unique cocktails. A must-try is the Husky Howling, Reindeer Kick or Brown Bear's Kiss! And, treat yourself to one of their cinnamon buns, it is the best bun we have ever tried.
Saariselkä
Saariselkä is a small resort town in Finnish Lapland. Here you can experience the true north, the wilderness areas and national parks. Every year, the fells of Saariselkä are covered by fluffy white snow and their ski centre is the northernmost in Europe. Try your luck at the fun sledging hills, the ski trails and the guided treks.
5. Kakslauttanen Arctic Resort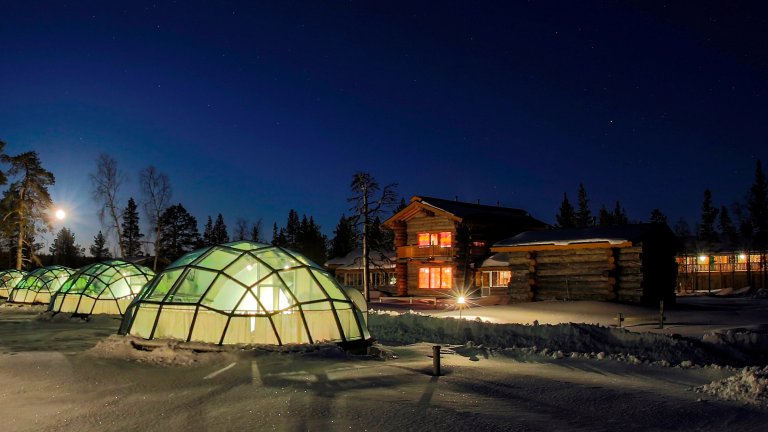 Nearest airport: Ivalo
Perfect for: Families, winter activities,
Must do: Don't miss out on a reindeer or husky safari
Kakslauttanen Arctic resort started already in the 1970s and has since become an all-time favourite with travellers from all over the world. Little by little, year by year Kakslauttanen has grown into the East and West villages offering a range of traditional log cabins, different types of glass igloos and snow igloos and lots of winter activities. Kakslauttanen is one of the biggest glass igloo resorts with a max capacity of more than 800 visitors. It is probably internationally the best-known winter resort in Finland. The resort has its own charm with particular interior design and its references to former decades.
There are plenty of winter and snow activities to choose from when staying at Kakslauttanen.
6. Wilderness Hotel Muotka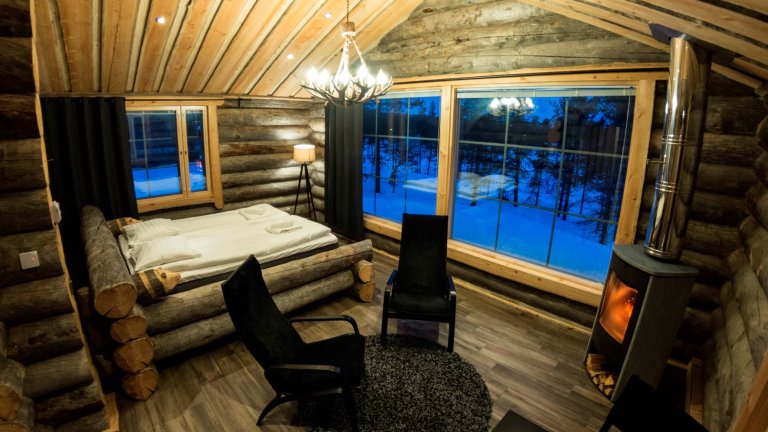 Nearest airport: Ivalo
Perfect for: Honeymooners, nature lovers, families, winter activities,
Must do: Go ice fishing in the nearby lake or for a snowshoe hike in the snowcovered forest.
If you want to get away from the hustle and bustle at Kakslauttanen and an intimate resort with a hint of luxury is more your cup of tea, the nearby family-owned Wilderness Hotel Muotka might be just the place for you. To get there you drive on a narrow twisty road through the dense forest, a short but truly magical road trip. At this hotel, you stay in cosy panorama log cabins or Aurora cabins and experience an abundance of nature-based winter activities right on your doorstep. Moutka is a traditional wilderness hotel yet elegant.
This place makes you want to take off your shoes and curl up on the couch in front of the fireplace. It is just that cosy.
If you still don't know where to stay or can't find exactly what you are looking for - please get in touch. It is possible to tailor the tours to suit your next dream vacation to Lapland.
By Lisa J. Cooke & Josefine Lorange / Nov 08 2021