When is best time to see Northern Lights in Finnish Lapland?
It is said that Finland is one of the best places on Earth to spot the Northern Lights - they appear on more than 200 nights a year in Finnish Lapland. To maximize your chances of witnessing this celestial dance, plan your visit between October and March. Finnish Lapland emerges as a top-tier destination for Northern Lights enthusiasts, offering a captivating display that can last for just a few minutes or extend throughout the entire evening.
Our eight favourite places to stay in Finnish Lapland:
Below is our carefully curated selection of eight favourite places to witness the Northern Lights in Finnish Lapland.
1. Apukka Resort in Rovaniemi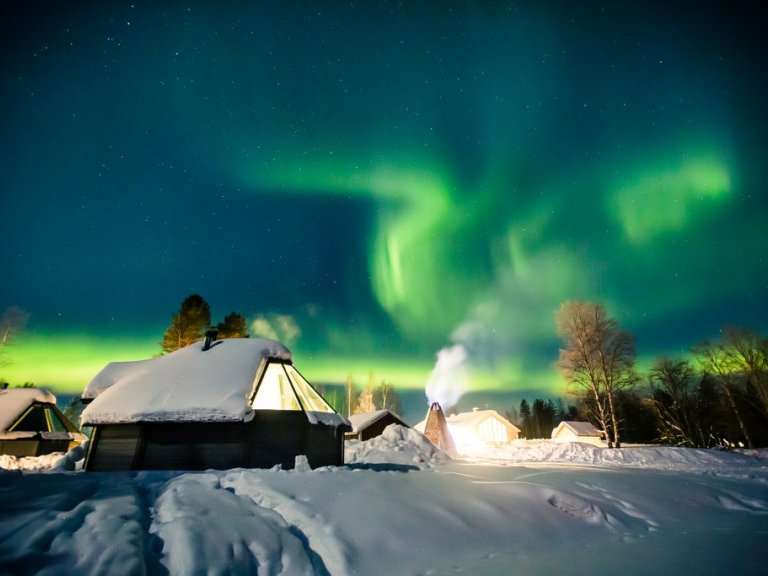 Nearest airport: Rovaniemi (ROV)
Perfect for: Families, Christmas & Festive, Couples
Tours including Apukka Resort: Rovaniemi Northern Lights Adventure I Christmas Magic under the Aurora I Helsinki, Northern Lights & Icebreaker
Imagine this: you're snuggled up in bed, watching the Northern Lights dance across the night sky through the glass roof of your comfy Aurora Cabin. If that sounds like your dream getaway, Apukka Resort is your perfect destination.
Nestled right on the Arctic Circle, between two lakes near Rovaniemi, Apukka Resort is a hidden gem in the taiga forest—making it an ideal spot to catch the Northern Lights.
Whether you choose the culturally inspired Komsio Hut with its rooftop bed under a heated glass roof, or the classic Aurora Cabin—a charming glass-roofed igloo—each option at Apukka Resort provides a cosy setting to witness the beauty of the Northern Lights.
Escape to Apukka Resort for a blend of nature's spectacle and modern comfort. It's not just a getaway; it's an opportunity to immerse yourself in the magic of the Arctic Circle, creating unforgettable memories beneath the dancing Northern Lights.
2. Wilderness Hotel Muotka in Saariselkä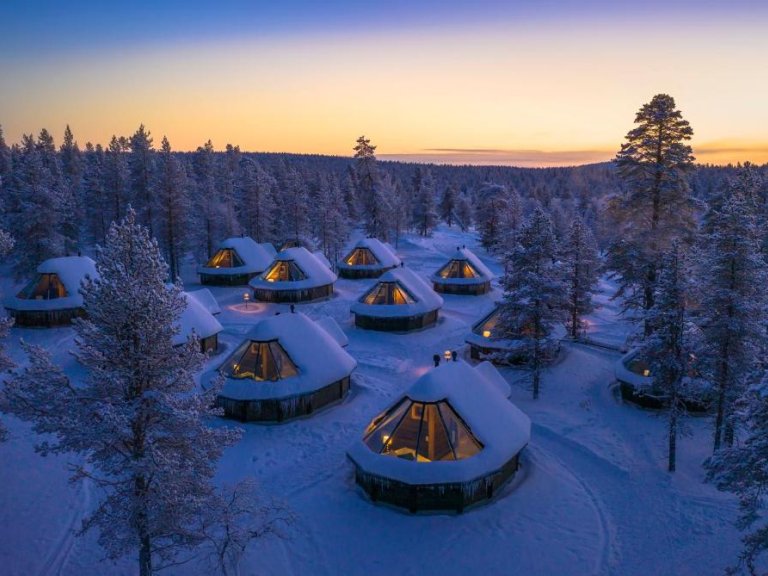 Nearest airport: Ivalo (IVL)
Perfect for: Honeymooners, Nature Lovers, Winter Adventurers
Tours including Wilderness Hotel Muotka: Muotka Northern Lights & Wilderness Break I Muotka Arctic Experience
If you're seeking an intimate resort with a touch of luxury, look no further than the family-owned Wilderness Hotel Muotka. To reach this hidden gem, embark on a short yet truly enchanting road trip along a narrow, winding road through the dense forest. At Muotka, you'll find yourself in cosy panorama log cabins or charming Aurora cabins, surrounded by a wealth of nature-based winter activities just outside your door. Muotka seamlessly blends traditional wilderness charm with an elegant touch. This destination beckons you to kick off your shoes and settle onto the couch in front of the fireplace—it's just that invitingly cosy.
And when it comes to winter adventures, Muotka offers a plethora of activities, from exhilarating husky sleigh rides and enchanting reindeer safaris to the thrill of snowshoeing through the pristine, snow-covered landscapes. Immerse yourself in the wonders of winter at Wilderness Hotel Muotka, where each day brings new opportunities to explore and enjoy the breathtaking surroundings.
3. Vaattunki Wilderness Resort in Rovaniemi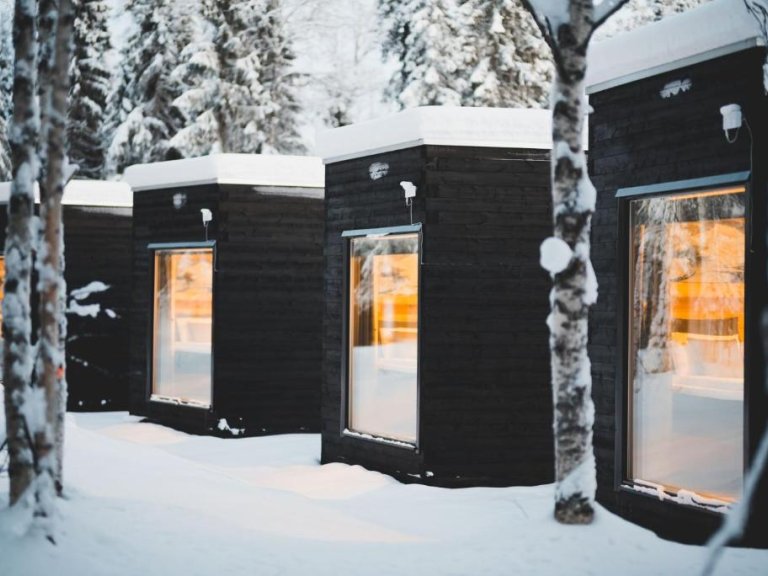 Nearest airport: Rovaniemi (ROV)
Perfect for: Nature Lovers, The Relaxation Traveller, Families
Tours including Vaattunki Wilderness Resort: Helsinki & Rovaniemi Wilderness Lodge
The Arctic Circle Wilderness Lodge is the perfect destination if you're looking for peaceful accommodation in the Rovaniemi area. With its location right next to the river Raudanjoki and in the middle of the pine forest, the Lodge is the place to enjoy pure arctic nature in silence. Their Panorama huts are made from local pine wood and with a full-size window, you get as close to nature as possible from the comfort of being inside a warm room.
In winter it is a great place to look out for the Northern Lights and participate in winter activities. Meet the Arctic animals and explore the snowy landscapes on a dog or reindeer sledging trip. It is a wonderful experience to get up close with your favourite arctic animal. Another unique way to experience the peaceful nature is to drive silently through the forest on an electric snowmobile tour. Don't forget that the best way to end a day well spent outdoors is to step into the Finnish sauna.
4. Wilderness Hotel Inari in Inari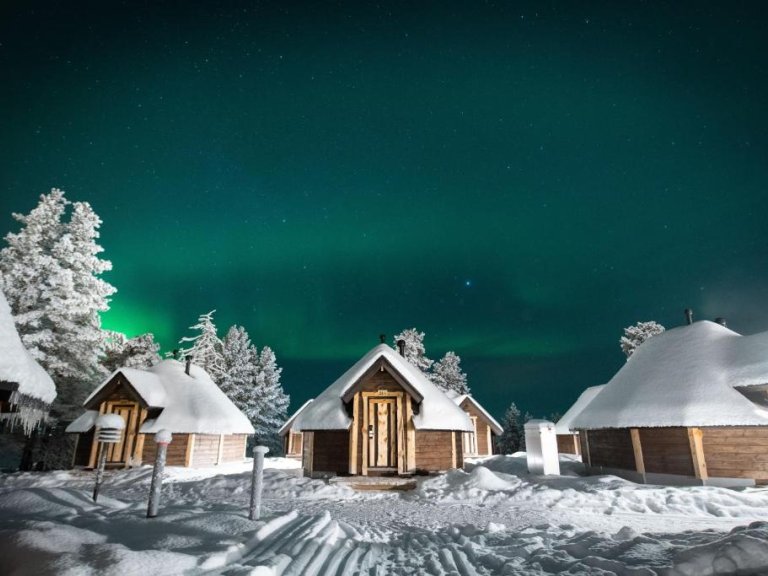 Nearest airport: Ivalo Airport (IVL)
Perfect for: Families, Nature Lovers, Winter Adventurers
Tours including Wilderness Resort Inari: Inari Northern Lights & Wilderness Break I Arctic Highlights of Inari
Far above the Arctic Circle just outside the small Sámi town of Inari, you find the beautiful wilderness resort Wilderness Hotel Inari. The resort is located next to the Lappish Lake Inari and offers accommodation in glass-roofed aurora cabins, rustic wilderness rooms or log cabins with a décor focusing on comfort inspired by the wilderness surroundings. It is the perfect spot for outdoor activities and Northern Lights chasing.
The onsite restaurant offers Lappish cuisine in a cosy atmosphere with views over the frozen lake. In the bar, you can try a variety of wines and unique cocktails. A must-try is the Husky Howling, Reindeer Kick or Brown Bear's Kiss! And, treat yourself to one of their cinnamon buns, it is the best bun we have ever tried.
5. Kakslauttanen Arctic Resort in Saariselkä
Nearest airport: Ivalo (IVL)
Perfect for: Families, Winter Activities
Tours including Kaklsauttanen Arctic Resort: Kakslauttanen Glass Igloo Break
Kakslauttanen Arctic resort started already in the 1970s and has since become an all-time favourite with travellers from all over the world. Little by little, year by year Kakslauttanen has grown into the East and West villages offering a range of traditional log cabins, different types of glass igloos and snow igloos and lots of winter activities.
Kakslauttanen is one of the biggest glass igloo resorts with a max capacity of more than 800 visitors. It is probably internationally the best-known winter resort in Finland. The resort has its own charm with particular interior design and its references to former decades.There are plenty of winter and snow activities to choose from when staying at Kakslauttanen.
6. Arctic Snowhotel & Glass Igloos in Sinettä, Rovaniemi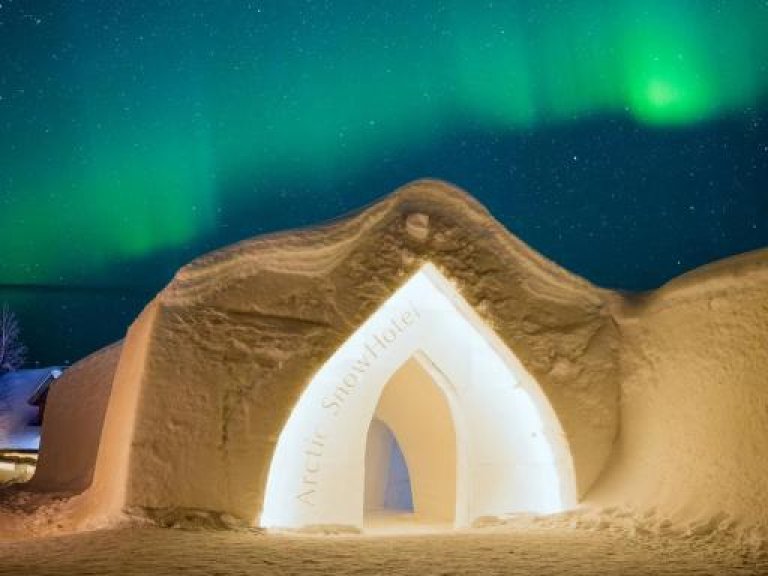 Nearest airport: Rovaniemi (ROV)
Perfect for: Foodies, Adventurers
Tours including Arctic Snowhotel & Glass Igloos: Arctic SnowHotel, Glass Igloo & Northern Lights
If you're yearning for an Arctic escape that seamlessly combines unique accommodations with a touch of luxury, look no further than the Arctic SnowHotel and Glass Igloos in Rovaniemi. The journey to this winter wonderland is an adventure in itself, winding through the Arctic landscapes and setting the stage for the magical experience that awaits. Nestled in the Lappish forest, this unique destination offers cosy glass igloos that allow you to witness the dancing Northern Lights from the comfort of your bed.
For those seeking an even more extraordinary experience, the Arctic SnowHotel provides an icy retreat with intricately sculpted rooms and beds carved from ice and snow. Imagine unwinding in a frosty haven while marvelling at the beauty of the Arctic surroundings. With a perfect blend of Arctic charm and modern comfort, the Arctic SnowHotel and Glass Igloos promise an unforgettable escape into the captivating winter landscapes of Rovaniemi.
7. Wilderness Hotel Nangu in Inari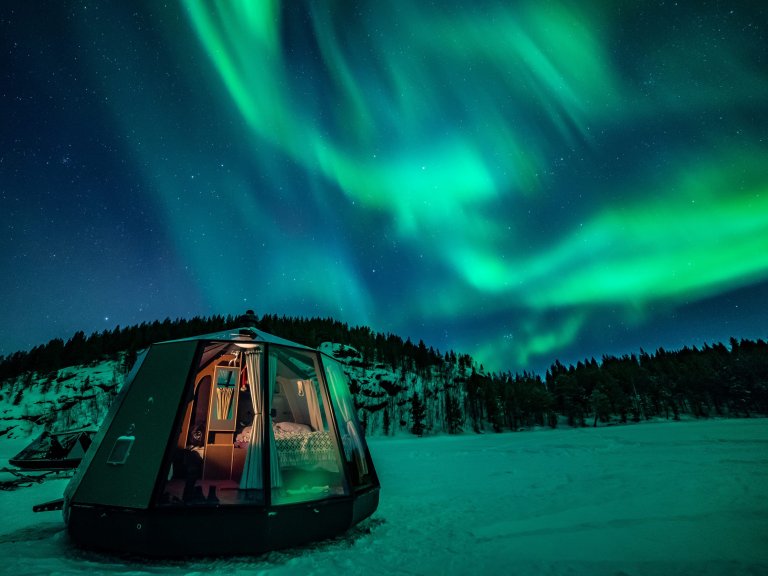 Nearest airport: Ivalo (IVL)
Perfect for: Couples, Honeymooners, Winter Lovers
Tours including Wilderness Hotel Nangu: Romantic Lapland
For a captivating Arctic retreat that seamlessly blends comfort and wilderness charm, Wilderness Hotel Nangu is your ideal destination. Tucked away in the tranquility near Lake Inari, Wilderness Hotel Nangu offers comfortable cabins and exclusive Aurora cabins, providing a front-row seat to the celestial dance of the Northern Lights.
As you step into this Arctic sanctuary, you're welcomed by an ambiance of warmth and rustic elegance. For those seeking a truly immersive experience, the hotel's winter activities include everything from invigorating ice fishing on Lake Inari to exhilarating snowmobile safaris through the snow-covered wilderness. With Wilderness Hotel Nangu, your Arctic adventure is not just an escape; it's an opportunity to unwind amidst nature's wonders while indulging in modern comforts. Discover the allure of this Arctic haven, where each day presents new opportunities to explore and savour the beauty of the surrounding winter landscapes.
8. Harriniva Adventure Resort in Muonio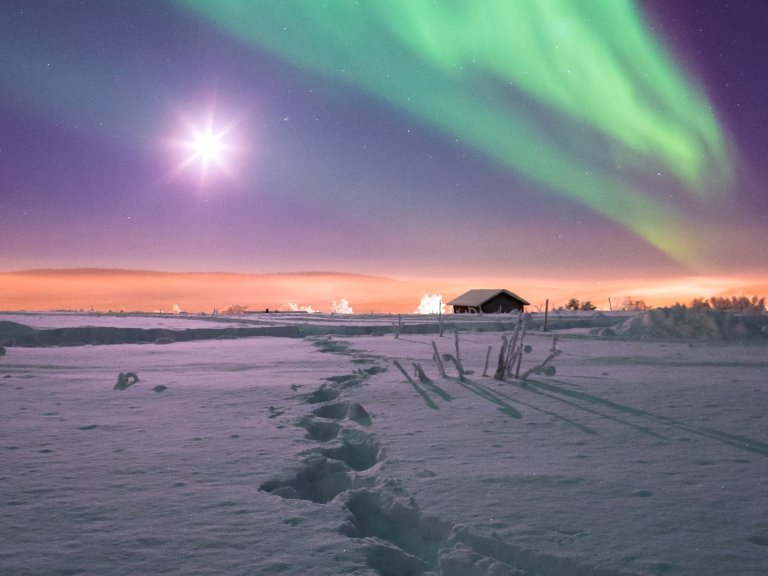 Nearest airport: Kittilä (KTT)
Perfect for: Couples, Adventurers, Honeymooners, Winter Lovers
Tours including Harriniva Adventure Resort: Snowmobile & Dog Sledding Adventure I Lapland Northern Lights Weekend
Escape to the winter wonderland of Muonio and experience the perfect blend of adventure and comfort at Harriniva Adventure Resort. Your journey to this Arctic retreat is a scenic expedition through the captivating Lapland landscapes, unveiling the promise of extraordinary moments. Situated near the picturesque Muonio River, the resort offers a diverse range of accommodations, from wilderness cabins to hotel rooms and exclusive Aurora View Rooms.
Picture yourself gazing at the Northern Lights dancing across the night sky from the warmth of your room or stepping outside to embrace the magical spectacle. Harriniva Adventure Resort caters to every winter enthusiast with an array of thrilling activities, including dog sledding, snowmobiling, and the tranquility of cross-country skiing amidst the pristine snow-covered wilderness. In this Arctic haven, adventure seamlessly intertwines with comfort, creating an unparalleled experience where each day brings new opportunities to explore and revel in the beauty of Lapland's winter wonders.
Travel to Finnish Lapland with Authentic Scandinavia
From unique accommodations to thrilling winter activities, we are here to assist you in booking your dream trip that captures the essence of this Arctic wonderland. Contact us at [email protected] for trip advice and embark on a journey to Finnish Lapland that will linger in your memories for a lifetime. Discover all our trips to Finland here.
By Lisa J. Cooke & Natacha Müller / Nov 08 2021