Embarking on an Arctic Adventure
When it comes to awe-inspiring travel experiences, few can match the enchantment I felt during my Arctic adventure. Nestled in the breath taking wilderness of Kiruna, Sweden, ICEHOTEL stood before me as a remarkable testament to human creativity and nature's beauty. Join me as I delve into the unforgettable journey I experienced at ICEHOTEL—a hotel constructed entirely from ice sourced from the nearby Torne River. From exploring captivating ice art suites to engaging in thrilling outdoor activities, my Arctic adventure was filled with wonder and left an indelible mark on my heart.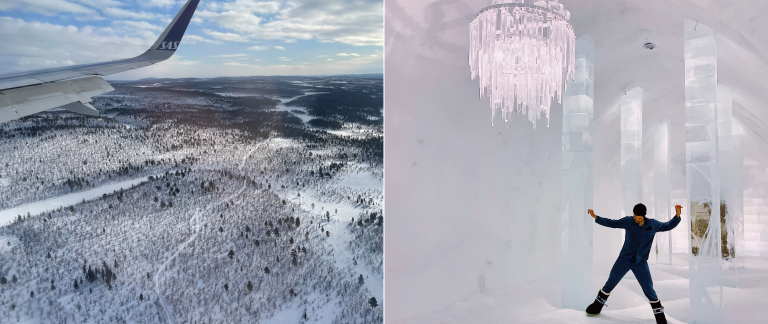 Welcome to Kiruna
Touching down in Kiruna, Sweden, I was immediately captivated by the pristine beauty that enveloped my senses. The white taiga, adorned with majestic fir trees stretching as far as my eyes could see, was a sight that truly took my breath away. Despite being just a short 90-minute flight from Stockholm, Kiruna felt like a world apart from Europe's bustling cities, offering me the perfect escape to find solace in the wilderness or catch a glimpse of the elusive Northern Lights.
From Kiruna Airport, a brief 20-minute journey brought me to Jukkasjärvi, a charming Sami settlement nestled alongside the Torne River. It was here that my adventure at the world-famous ICEHOTEL commenced—a marvel crafted entirely from multi-tonne ice blocks harvested from the very river it overlooks. Every winter, these ice blocks are stored in a solar-powered warehouse facility, patiently waiting to be transformed into the ethereal ICEHOTEL once again.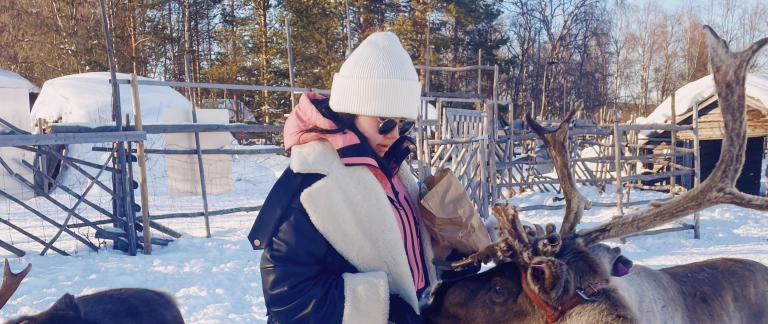 Wandering through an Icy Wonderland
As I settled into my ice room at the ICEHOTEL, I couldn't help but marvel at the exquisite beauty that surrounded me. During the day, the hotel transformed into a living art gallery, with the ice rooms open for all visitors to admire. However, as the clock struck 6 pm, these rooms became exclusive sanctuaries for the fortunate guests, including myself. With eager anticipation, I began exploring the art suites, each meticulously carved by different ice artists, showcasing their unique visions and artistic prowess.
The ICEHOTEL itself was divided into two sections—the year-round accessible ICEHOTEL 365 and the seasonal ICEHOTEL, which is rebuilt from scratch every year. I had the privilege of staying in an ice art suite at the seasonal ICEHOTEL, a true testament to architectural ingenuity and artistic brilliance. Additionally, the ICEHOTEL 365 boasted an ice bar, where guests like myself could indulge in glacial cocktails, while solar panels ensured that the ice remained a cool -5 degrees Celsius, even during the Swedish summer.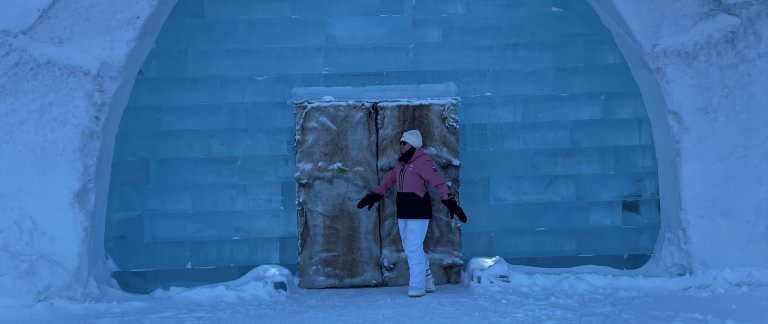 Exploring Arctic Activities
Jukkasjärvi beckoned with a delightful array of activities, keeping me engaged and immersed in the wonders of the Arctic. At the ICEHOTEL's on-site activity centre*, I eagerly booked exciting dog sledding and snowmobiling excursions, both promising unparalleled adventures through the picturesque Swedish wilderness. The expertly organized rides allowed me to experience the exhilaration of gliding across frozen rivers and through snow-dusted forests. To add a cultural touch, we paused for a traditional fika—a moment to gather around a crackling fire and savor local treats, immersing myself even deeper into the Arctic experience.
A short distance away, I embarked on a journey to explore a traditional Sami museum, where I delved into the customs and heritage of the indigenous Sami people. Within the cozy confines of a Sami laavu, I indulged in a delicious reindeer burger, savoring not only the flavors but also the opportunity to connect with the region's rich cultural traditions. It was a remarkable experience that allowed me to embrace the authentic essence of Jukkasjärvi and its people.
"Our experience in the Arctic and at ICEHOTEL was absolutely wonderful. We already miss the enchanting beauty of the Arctic and Sweden, and we sincerely hope to return again in the near future."
- Sophia Chiang
__
*Please note that we highly recommend booking activities in advance. During the high season, it is highly likely that activities may be fully booked. To ensure an unforgettable trip, allow us to arrange your activities for you.
By Sophia Chiang, edited by Natacha Müller / Jun 09 2023