Lapland stretches over the northern parts of Norway, Sweden, Finland and the Kola Peninsula in Russia. Lapland means snowfall, below-zero (32 °Fahrenheit) temperatures, winter fun and Northern Lights.
I have spent a winter working in a small Lappish village in Finnish Lapland. This was one of my best experiences ever. The atmosphere, the Northern Lights, the people, the culture, the food and the activities. It truly is special up North.
The weather in Lapland
Many people fear the cold, but you shouldn't. In Lapland, you'll experience the dry cold, which means that you easily can stay outdoors even though the temperatures are below -20C° (-4F°). One time I even experienced -40C° (-40F°) degrees. Okay, this time it was cold, but this doesn't happen very often, and you will always find a cosy way to warm up. For example, by the fireplace in a kota (the Finnish name for a hut made from tree logs) or in the sauna. The best way to end a day spent outdoors is to use the sauna and then cosy up in front of the fireplace. Finland is the country counting most saunas per inhabitant.
What to do in Lapland
There are many things to do in Lapland, and it can be difficult to choose what to do. My advice; don't miss out on a walk in the snowy forest on snowshoes. A snowshoe hike is absolutely the best way to enjoy the silence of nature. Other popular winter activities are snowmobile safaris, dog sledding and reindeer sledding. In the evening, you must try the traditional 'Lappish reindeer and mashed potatoes' dish, before you head off to sing karaoke (it's almost a Finnish national sport) and try a glas of karpalo lonkero (a Finnish alcoholic drink with taste of cranberries).
Below you'll find my packing list for a trip to Lapland.
Lapland Packing List
Essentials:
- Warm winter jacket (for example a ski jacket)
- Two pair of ski pants:
One pair of warm well-made snow pants
One pair with a bit less insulation for activities like snowshoeing & cross-country skiing
- Beanie / Winter hat
- Neck warmer or snood
- Gloves / Mittens (prefer mittens as they tend to be warmer than gloves)
- Merino Wool Liner Gloves (to wear under your gloves)
- Fleece
- Merino wool long underwear
- Wool socks (bring thin and thick ones)
- Insulated waterproof snow boots (I prefer a model with a sturdy sole, for example Sorel boots)
- A good camera to capture the beautiful landscapes and a tripod to get good Northern light photos
- Small backpack for day trips
Optional, but very nice to have:
- Extra towel for the sauna
- Thermos bottle
- "Cold cream" to protect your facial skin (most important is to avoid face cream and products containing water as it freezes)
- Sunglasses (can be useful from the end of January)
- Pocket lamp or head lamp
- A good book for cosy evenings in front of the fireplace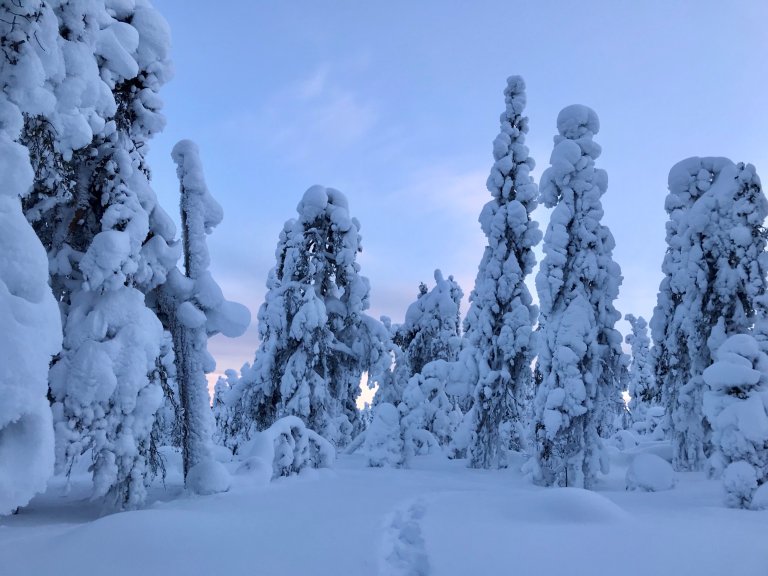 Pack your winter essentials and get ready to experience a real Scandinavian winter in amazing Lapland.
By Lorena D'Amario / Nov 08 2021