Last summer (August 2019) Maria and Bogdan visited Norway for an 'earlymoon', before their wedding the following month. They visited Norway's capital Oslo and the second-largest city Bergen. They travelled through the Norwegian fjords on spectacular railways and scenic fjord cruises. All this as part of our tour Sognefjord Adventure.
Getting in the mood to plan your own romantic trip to Norway? We sure are, and we are pleased to share their story below.
"Sometimes you experience something so incredible that you must take a deep breath in order to process it all. This was the case on our short but busy Norwegian Earlymoon - and yes, an earlymoon is a thing. It is a term used to describe a holiday a couple takes before their wedding. For us, it was the perfect excuse to go to Norway, before our wedding.
"We kept on checking the photo galleries on our phones to make sure what we had experienced was real."
Oslo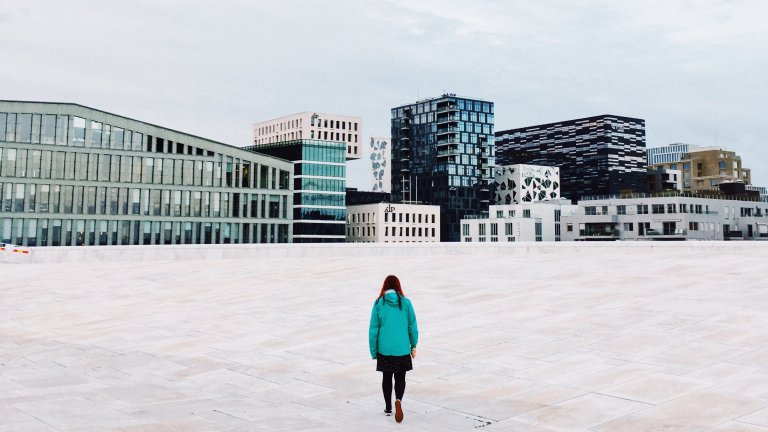 We started our tour in Oslo, which is a natural and great choice for first-time visitors. We got introduced to the Norwegian language and enjoyed the sound of it. We visited the Vigeland Sculpture Park and were impressed by the modern architecture of the Oslo Opera House. The city is a great place to discover the Nordic aesthetics and to get familiar with Norwegian people.
To make your time in Oslo as romantic as possible, make sure to:
- Watch the sunset at Vigeland Sculpture Park.
- Take a walk between the wooden houses at Damstredet and Telthusbakken.
- Reserve a table at Ekebergrestauranten. Ask for a table next to the window to get a stunning view of the city and inner Oslo fjord.
Flåm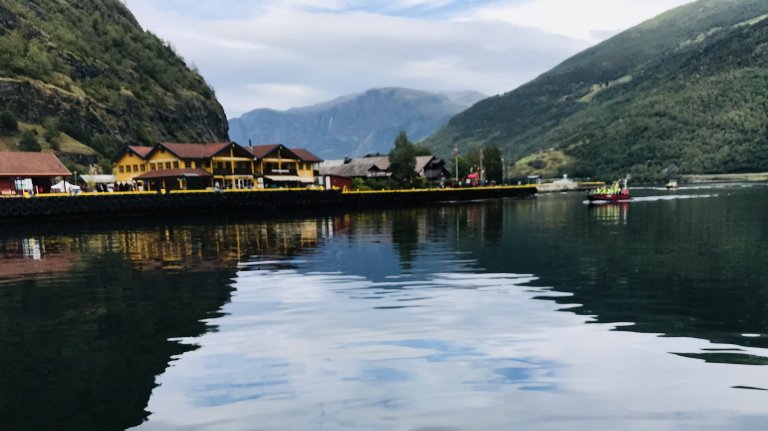 Getting to Flam is done by taking one of the most famous train rides in the world - The Flåm Railway. It is one of the steepest train trips and one of Norway's most famous attractions too. In all fairness, it deserves the hype. You can compare the experience to a long and scenic hike, without getting sweaty. Once you arrive in Flam, you can choose to do different activities. No matter the weather you will find something to do. You can, for example, go kayaking in the fjord. It doesn't matter if it rains, it will still be a great experience that you can brag about, or maybe keep for yourself as a valuable memory you can turn to if life becomes difficult.
If you want to add a little extra romance to your stay in Flåm, you can:
- Join a kayaking trip, it's an idyllic way to experience the Fjords.
- Have dinner at Ægir BrewPub in Flåm, the perfect location for a romantic dinner for two.
- Prepare a picnic basket and go hiking in the beautiful surroundings.
Balestrand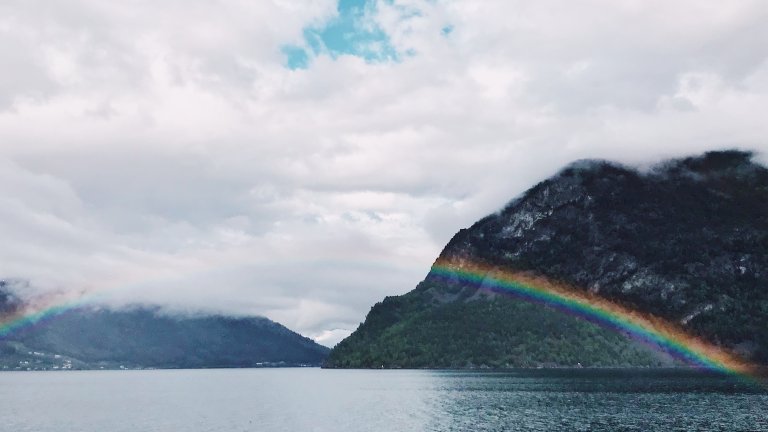 We arrived in Balestrand by boat, literally under a rainbow. We were met by views of the tall mountain peaks peeking out through puffy long stripes of fog. Fjord Norway offers many well-marked nature trails and although we initially wanted to hike Keipen, we were advised to give Raudmelen a try. We stopped many times on our way to the top to take photos and simply just to comprehend the greatness of the fjords.
To make your stay in Balestrand extra romantic, we recommend:
- Hiking up the mountain Raudmelen starting in Balestrand to get fantastic views over the Sognefjord (this is a demanding hike)
- Spending a night at the historic Kviknes Hotel. The view from their terrace is stunning.
Bergen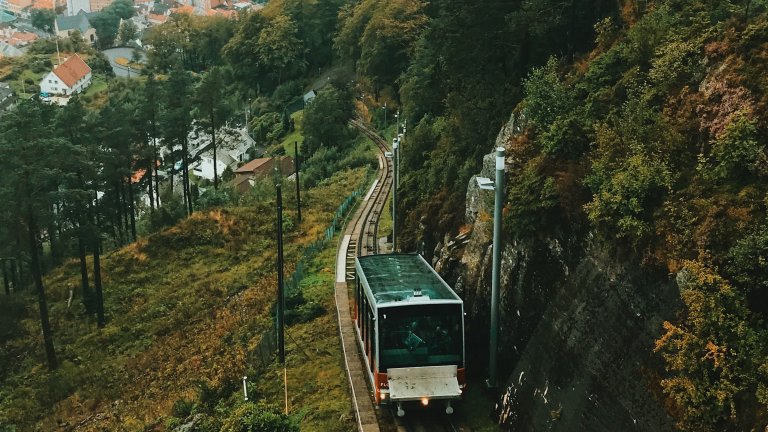 We arrived in Bergen on a rainy day, which at first didn't seem like a welcoming hello. But it didn't stop us from exploring. We took the funicular railway to Mount Fløyen to enjoy the view. The rain created a romantic mood, and the Fish Market, KODE Museum and small shops were all good shelters. Bergen is indeed a romantic city.
Some must-do romantic activities in Bergen include:
- Take the funicular up to the top of Mt Floyen to enjoy the spectacular view of Bergen
- Enjoy a lunchtime concert hand in hand at the Edvard Grieg Museum Troldhaugen (May – October)
- Visit Rosendal in the Hardangerfjord on a day trip from Bergen. Make sure to pay a visit to the beautiful rose garden at Baroniet Rosendal (The roses bloom in full by July)
All in all, we ate a lot of salmon and plenty of handpicked berries during our time in the Norway. We kept on checking the photo galleries on our phones to make sure what we had experienced was real. This was our Norway experience in just a few words. We're home now and miss it dearly."
Like Bogdan and Maria, we are crazy about Norway. The Norwegian fjords with its spectacular scenery, charming villages and historic hotels provide a perfect backdrop for a romantic trip with your loved one.

By Maria & Bogdan. Edited by Josefine Lorange. / Nov 08 2021