A journey of a liftetime
To have a journey of a lifetime, besides perfect organization, there needs to be something extra to add on top of an amazing experience. On this journey, we had much more than we have ever imagined.
To properly start, we are going back to 2018 and Teide, the highest peak of Spain where I have proposed my now wife. Fast forward to spring 2020 which was supposed to be when we both say "Yes" in front of our friends and family – and this was postponed 3 times due to COVID! Finally, in October 2021, after many ups and downs - long distance, support through our biggest losses, but also patience and compromise - we managed to celebrate our 10-year relationship and finally have the wedding we desired.
Right after, we started planning our honeymoon and this patience and compromise was immediately put to test! People expect to see the standard exotic destinations and my wife did too, but I always dreamed of seeing Aurora Borealis. Both of us being from Serbia, many things throughout our lives were unavailable to us, too expensive, too unattainable. But this time, we decided to spoil ourselves a bit and afford something we normally couldn't – and my idea fortunately won!
And oh how grateful we both are that it did! Authentic Scandinavia perfectly organized every minute and every aspect of the trip, all of our wishes and needs were met, all with a smile and enthusiasm from the organizers' side! They were there for us in every moment of the trip and what was most surprising (especially having in mind experiences with most other agencies) everything was even better than how it was presented.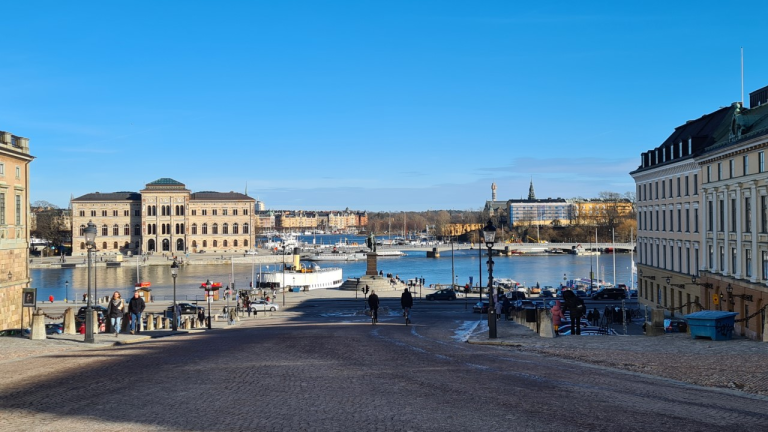 From bustling city life to serene wilderness
A day and a half in charming Stockholm brought us our first experience with unique Scandinavian architecture and delicious food! We were lucky to have a cold, but a sunny day, and the city was full of people excited to best use the gorgeous weather. We were amazed by the welcoming disposition of everyone we came in contact with - the cold climate definitely didn't affect the warmth Swedish people show towards foreigners asking for directions and recommendations.
After the bustling city atmosphere, we took a romantic train to Abisko through surreal landscapes. The old timey atmosphere of the train trip is incomparable with any other modern travel experience – it makes you introspective and appreciative of the vastness of Swedish nature and pastoral atmosphere all of us long for, especially coming from big cities.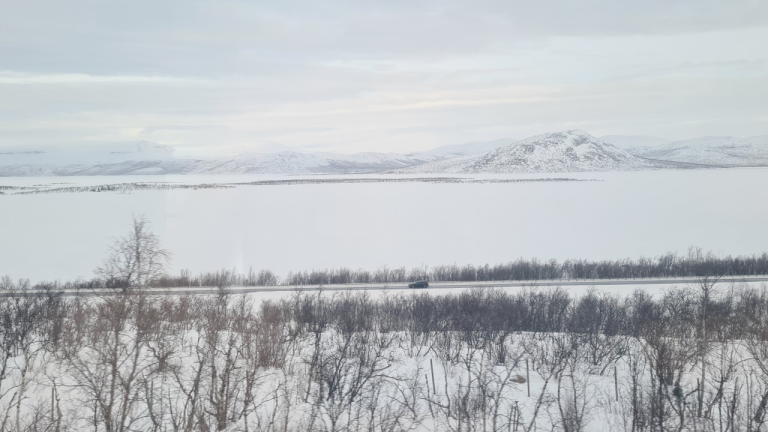 Memories to cherish forever
And what a perfect place it was to find out what we hoped for the most, but thought it was still far along the way… My wife was pregnant, against all odds and against our fears and pessimism that it might take us ages of trying. In the pristine-white, snowy planes of Sweden, we realized we would be parents. This moment will forever connect us to these beautiful views and it will definitely be a story we will embarrass our future kid with in front of their friends by re-telling it hundreds of times!
Completely exhilarated, we came to Abisko, and it was as if everything was arranged to help us celebrate. Aurora Sky Station is a fantastic place visually and atmosphere-wise. The staff was welcoming and helpful, explaining all the local specialties while we were admiring the view. Unfortunately, Aurora decided not to visit us on that evening, but this didn't diminish our first impression. The wilderness of the Swedish north waited for us in the morning, offering unforgettable views of the untouched nature, magnificently covered in snow and ice, a vast frozen lake glistening in the northern sun. We reluctantly left the wonderful locals behind and moved further to Kiruna.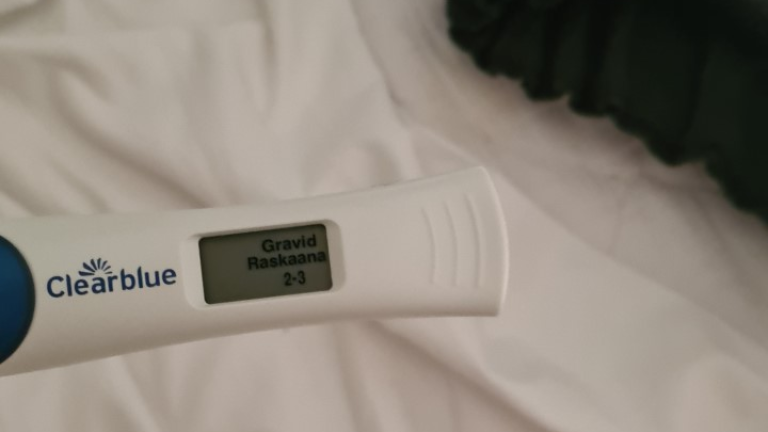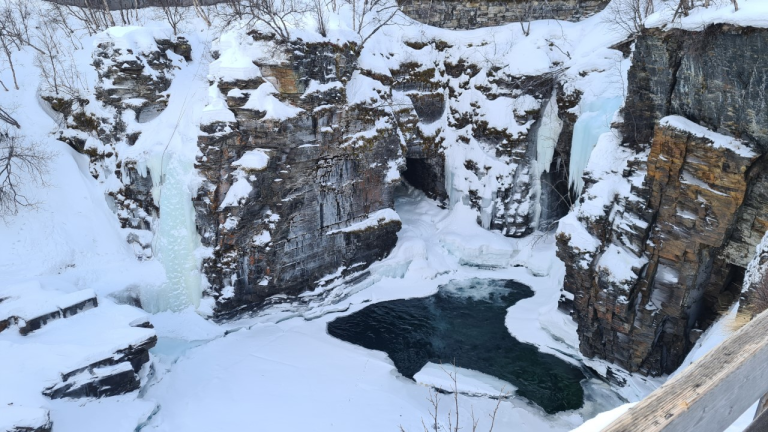 A frozen paradise
Kiruna didn't disappoint, with its charming city centre and admirable church we saw so many times in the photos, we understood that some things are best to be experienced in person. Same goes for the interesting experience in the local spa, something we can only recommend to anyone visiting not to miss! Aurora escaped us once again that night, making us wait for it a bit longer, more and more eager to experience it, while at the same time making us realize that all the adventures, we were having meanwhile made this trip unlike any other we had so far.
Building on to this in a majestic way was a Husky ride we were looking forward to a lot! Interacting with these fantastic animals, seeing the love their caretakers are investing in them and running through nature the way it was done hundreds of years ago brought us to appreciate all the people who lived in these areas before we had all the modern technology.
As another homage to human accomplishments, that night was spent in the ICE hotel, an impressive structure that is more a work of art than an architectural achievement. Whimsically slowly disappearing every spring, reminding us that everything in life is fragile and temporary, it stands as a reminder that we need to take advantage of every moment, every lovely view and experience, that we should focus on collecting adventures rather than material goods. And if this trip taught us anything, it would be exactly that – a lesson we will try to teach our future daughter.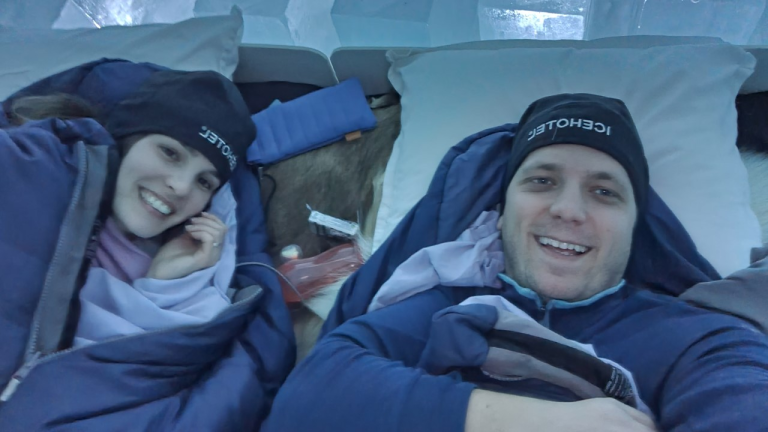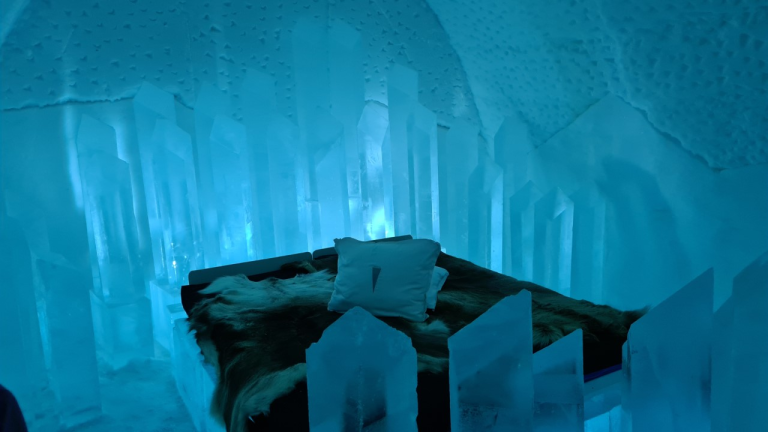 Chasing the Northern Lights
We had only 2 nights left, and we were sure that Aurora would not show herself to us, and despite that, we concluded that this trip was still not only worth it, but our best one we had in 10 years that we spent traveling together. And as if it heard us on our serene walk around the hotel, completely content and grateful, it started emerging slowly, at first shy and modest, and then showing itself in all its beauty, covering the sky, leaving us speechless. We called out to everyone in the hotel, and we shared this experience - strangers and friends, old and young, with different experiences and backgrounds – all of us in awe, small in front of the magnificence of nature, aware of how precious life is and how lucky we are to be where we are at that moment.
We walked back in silence, full of impressions and with full hearts. After all the excitement, it was easy to fall asleep in the room that was -5 degrees but equipped in a way that none of us could feel the cold. The last day brought us a snowmobile ride and we already thought we had gotten what we wanted from the trip – what more could happen to improve this already amazing experience? We got what we came for and then some more. But Aurora had other plans. She graced us with her presence once again, as if the night before was just an intro. As complete newbies, we thought the show from the night before was the best that could happen, but as we cruised on our snowmobiles, the sky was covered with dancing colours, and even the guides were taking photos, telling us this is one of the best Aurora moments they saw. The colours changed, taking shapes in complete silence of the forest, with just an occasional animal sound reminding us we were just mere guests in this glorious exhibition of nature's best talents.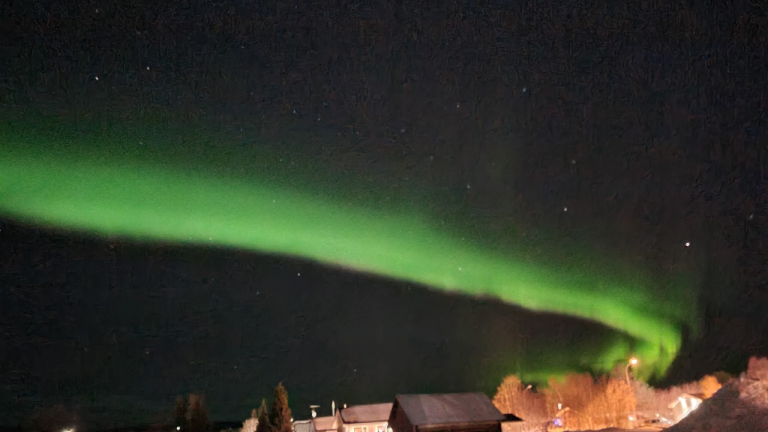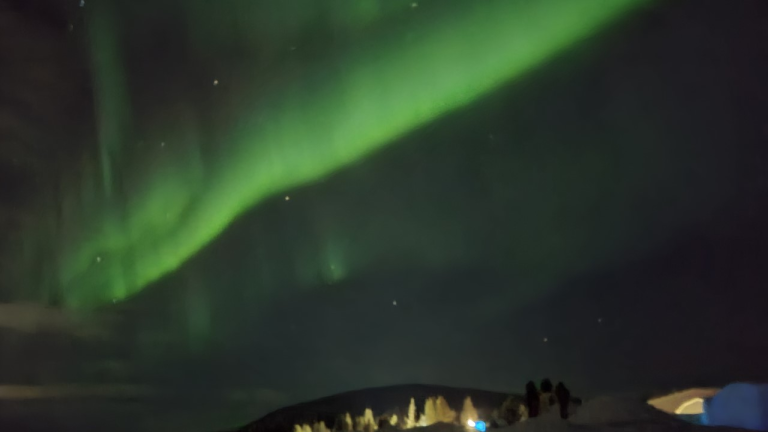 Never settle for conventional!
Now, 6 month after what appears to be a dream, we still tell everyone those details that we remember, we still repeat the lessons we learned and we are sure that our future baby will hear about this so many times that she will beg us to stop re-telling it! :D So many memories connecting us to this place, we are thinking to name our daughter Aurora - to remind us of that moment in that train when we found out she will join us, to remind us of that feeling in the woods while we were realizing how blessed we are to be in this place and to constantly push us to explore, to go into new adventures and never settle for conventional!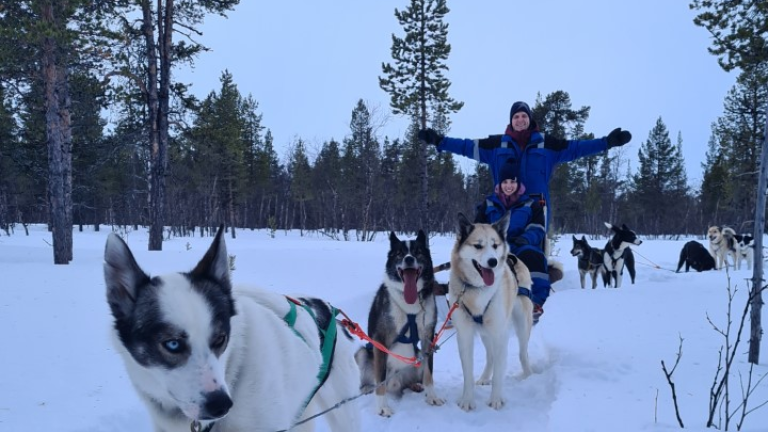 Book Milan & Tatjana's Tour: Swedish Winter Adventure
Step into Milan & Tatjana's shoes and book a journey of a lifetime! With the expert help of Authentic Scandinavia, you too can experience the breath-taking sight of the Aurora Borealis and make memories that will last a lifetime. Book here!
Celebrating the news
We were delighted to tell Milan & Tatjana that they won this year's travel competition! Here is their response: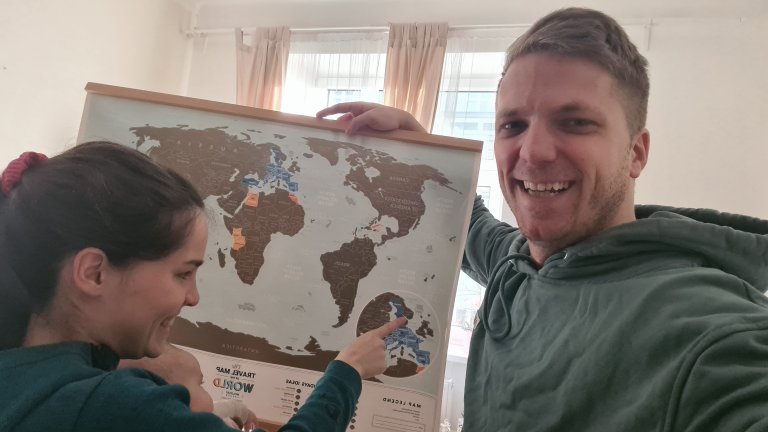 Thank you very much for the amazing news, you made our day and week and beginning of the year! Please find photo of us celebrating with our baby, pointing out on the scratch map our next destination.
By Natacha Mueller / Jan 31 2023