Annika travelled to Bergen and the nearby fjords this winter. In just 3 days, she experienced spectacular fjords, Norwegian Vikings, snow-covered mountains, frozen waterfalls, brown cheese and local beer brewing.
Bergen: A true harbour town, Gingerbread & Great Views
Where did you travel to and how did you get there?
I took a flight from Oslo to Bergen, which took about 50 minutes. I spent my first night in Bergen before we continued to the villages Undredal, Gudvangen and Flåm, 3 charming fjord villages situated along the Nærøyfjord and Aurlandfjord - both arms of the great Sognefjord.
What did you do in Bergen?
I only spent half a day in Bergen and even though we were short on time, we still managed to see all the main attractions. We went up to the top of the city mountain Fløyen, visited the Bergen Christmas market, the Edward Grieg Troldhaugen museum, and the world's biggest gingerbread city – Pepperkakebyen. The latter is a miniature version of Bergen, which every year is made from gingerbread. The local schools and kindergartens contribute to the baking of gingerbread and in constructing miniature houses. We also visited Bryggen - the old Hanseatic wharf, which dates back to the Middle Ages.
What was the very best thing you did in Bergen?
My favorite thing was to take the funicular railway Fløibanen up to Fløyen. From there you have a stunning view over Bergen, and it is a great starting point for walks, runs, and mountain biking rides in the nearby woods. There are numerous trails and paths to choose from. You can also walk down the mountain – it is a pleasant trip and it only takes about 30 minutes. Bryggen is also a very nice spot. You really get the feeling of how life was in the former times in Bergen - a true harbour town.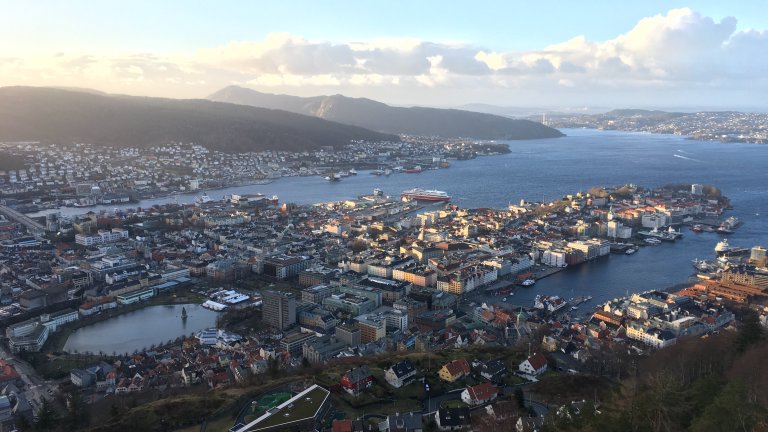 Fjord Safari, Stunning Mountains & Norwegian Vikings
So, from Bergen, you continued to Undredal?
Yes. From Bergen, we took a bus to Undredal, where we did a brown cheese tasting. From Undredal, we went on a fjord safari on the Nærøyfjord and continued to Flåm by RIB boat. It was great to experience the fjords from the boat and our guide was very informative and friendly.
How would you describe Flåm?
Flåm is a small village in the Norwegian fjord area. It is beautiful situated along the fjord and between the mountains. I was there during winter, which I enjoyed as it was quiet and peaceful. It's a charming little village, and it has everything you need - hotels, a grocery shop, a souvenir shop, a train station, a bakery, a cafeteria, a museum, tourist information and of course a picturesque fjord view.
Did you meet the local villagers?
Many of the people working in the services industry in Flåm are locals. The people I met were very friendly, open-minded, and helpful.
"The people working there were true vikings only wearing a thin shirt even though it was minus degrees."
What is your best recommendation for the fjord region?
I truly enjoyed Stegastein viewpoint; a viewpoint up about 800 meters above sea level. From here you have a beautiful view over the mountains and fjords. I also loved the fjord cruise I did onboard Vision of the Fjords from Flåm - Gudvangen. This boat is one of the new vessels sailing on the Nærøyfjord. It has a 360-degree view from the highest deck. Onboard the boat you can buy drinks and snacks. The best part is that it is a hybrid electric vessel and consequently soundless, so you can enjoy the peace of nature in silence. The cruise was the highlight of my trip.
Another amazing experience was the Viking Village in Gudvangen. Gudvangen is another small fjord village not too far from Flåm. They had prepared a Viking lunch for us consisting of a meat and vegetable soup. It was so good! The people working there were true Vikings only wearing a thin shirt even though it was minus degrees. The village is open all year.